Madhavi Mukherjee is a dear friend and a tenacious artist who cares to empower women. Madhavi just launched a forum called Bossgirl where she features and interviews her friends, colleagues and women who she thinks should share their story. Every woman on her blog is a lady of substance and I feel fortunate that she includes me in her special club. Thanks Madho for your spirit and enthusiasm and for your passion to uplift.
You can read more here.
Thanks Alexxa Gotthardt for a featuring
our collaboration in your piece about parenthood. Alexxa writes, "Artists have long made the physical and emotional vicissitudes of pregnancy and birth the subject of their work. Below, we highlight images that harness the discomfort, uncertainty, self-discovery, and pride that come with the process of becoming a mother." Please click here to read on.
Acquisition, Museum of Fine Arts, Houston.
Thanks to Malcom Daniel, Curator of Photography MFA, H , he writes. "Here is Laxmi, goddess of wealth and good fortune. Staged with painstakingly executed sets, props, costumes, and direction, the images hover between the traditional art they reference and something wholly inventive, between constructed fiction and straight photography, and between sincere spiritual expression and colorfully alluring kitsch.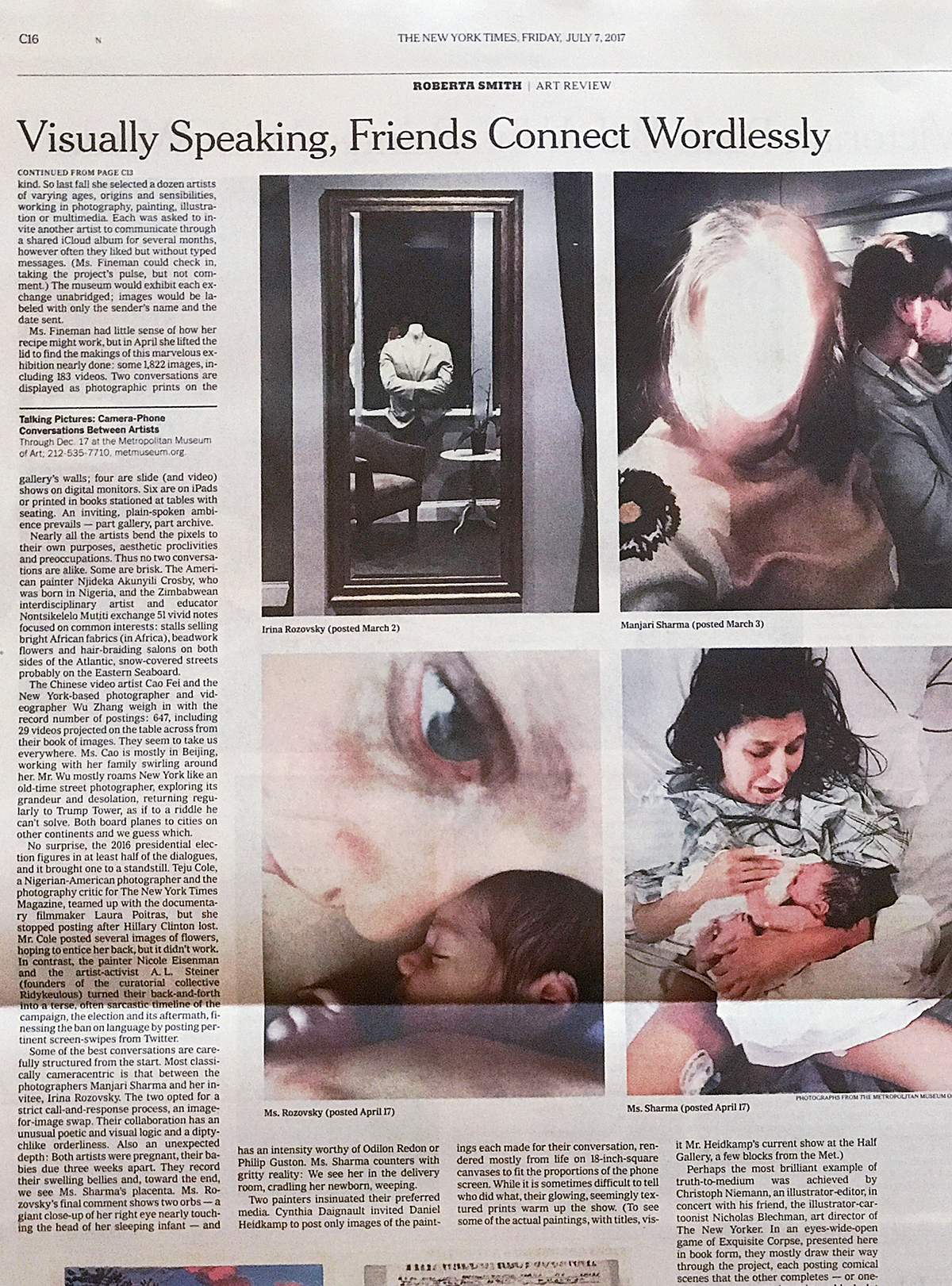 In each of these dozen pictorial tête-à-têtes, two artists share images — scores, sometimes hundreds — and the occasional brief video. They tap moments of beauty or strangeness; of everyday life or travel; of buildings, streets and weather. We see flashes of wit, poetry and even genius and observe momentous events, both private and presidential. Everywhere puzzles are set in motion for us to contemplate and parse, making our own meaning. - Roberta Smith
The conversation between the photographers Manjari Sharma and Irina Rozovsky is an intimate exchange about becoming a mother. The approximately 120 pictures of the two women are like a long, free association chain. Sometimes a woman grasps a form or an object from the image of the others and converts them in their own way - a vase, a smeared windshield, the interior of a car during a ride.
"Whereas the camera once functioned chiefly as a tool for preserving the past, today people share their visual experience in real time and with unprecedented intimacy," reads the exhibition's introductory wall text. "Photography has become a fluid, instantaneous, ephemeral medium, closer to speaking than to writing."
Read more here
The effect is a stream of consciousness filled with visual puns and images that sometimes speak to each other or disagree. Some photos convey a certain ghoulishness as seen by a woman's portrait with the face omitted by the camera flash by photographer Manjari Sharma. "Sometimes, we're agreeing and echoing and sometimes we're coming apart," photographer Irina Rozovsky described her digital conversation with Manjari Sharma to The Verge. Both Sharma and Rozovsky happened to be pregnant during the commission period, so a lot of their photos engaged that subject matter. Read more on this article Here
El Pais is the most highly circulated daily newspaper in Spain and is considered to be one of the national newspapers of record for Spain. It is based in Madrid. They speak very kindly about my collaboration with Irina Rozovsky who is my partner in crime for this series. currently on display at the MET until December 17th, 2017.
The link for this article can be found here .
#MetTalkingPictures
A print of the image above is donated for Artbridge's Spring Art auction. Learn more about this incredible non profit by attending their fundraiser on June 6th, where Sanford Biggers will be honored. You can also bid online on artworks from 40 incredible artists to. I sit on the board of Artbridge and I can whole heartedly say they are a very hard working group of folks. I'm so glad to be showing alongside Irina Rozovsky, Sarah Palmer, Dillon Dewaters, Thomas Jackson, Greg Miller, Sanford Biggers, Ryan Schude and many more. Don't miss the opportunity to bid online before it closes at midnight on June 5th.
Blah Blossom: Group Show in Soho, Opening May 18th 2017
I have a piece in a group show upcoming from May 18 - May 28 in Soho. The opening is at 171 Elizabeth street at a store front in Soho. I'm pretty excited to be showing with some incredible names. Please come out if you can make to the opening..
Three Person Show: Kunst Museum Moritzburg Halle (Saale), Germany. July 24th - October 15th 2017
So happy to announce that all my Darshan works will be traveling to a museum in Germany where I will be showing along side Andre Wagner and Manfred Paul. The show has been announced here and above are some images of the space it will be traveling to. The show is titled Reflections of India and opens July 24th 2017 and stays open till October 15th 2017.